2014 Ram Heavy Duty Driving Impressions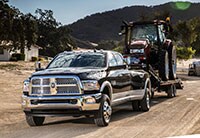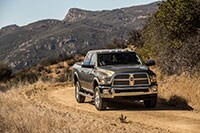 At minimum a Ram Heavy Duty is more than 19 feet long, six-and-a-half feet wide, six feet tall, needs nearly 3.5 12-foot traffic lanes to execute a U-turn and is three-tons of sink-in-hot-pavement truck. If you haven't got a lot of weight to carry or pull, a 1500 will probably serve better. If you need to tow or haul, however, you've come to the right place.
Once accustomed to the outside dimensions, the Ram HD is not hard to drive. You need to allow a bit more space for stopping distance than the average car but that's easy given the visibility from the higher driving position. The steering is reasonably quick, and the 3500 4WD's steering feels almost as good as the old trucks' rack and pinion independent suspension (the HD's are now a solid front axle on 2 or 4WD). You'll be twisting the wheel more than a car to make the same turn, and the Ram changes direction easily and we couldn't overwhelm the steering pump (making it sluggish and heavy) in parking lot maneuvering or threading a 4WD through mud, trees and rock.
There are good reasons why many enthusiast magazines don't do handling tests on HD pickups because handling and precision are relative terms. The Ram changes directions admirably and has predictable characteristics, but start horseplay in a vehicle where the rear axle alone weighs as much as a big Harley and you'll learn the hard way what those strange terms on NASCAR broadcasts mean.
What stands out the most on the current Ram is the quiet cabin and smooth ride quality, which have come a long way since the pre 2009 models. We found all three cabs quiet and solid, but the Crew Cabs and Mega Cabs were superior and nearly shudder free. Part of this solid feel is suspension tuning and part of the smoothness is the advanced body mounting system.
The 2500's coil/link rear suspension improves its ride and handling characteristics just as it did for the 1500. Optionally the 2500 may be equipped with full air suspension in back that levels automatically (two heights are available for towing) for load an trailer, meaning no more headlight adjustment and more consistent driving dynamics. The 3500 offers air-assist for the rear suspension, so you can get the huge load ratings but have a gentler ride empty.
There is now no single aspect of the Ram HD that will wear you out. At 75 mph on moderately good pavement we floored the pedal on a diesel and the engine wasn't heard over the road noise and wind noise wasn't heard above either. We could still converse in regular tones, even with riders in the rear seat. Since it revs higher, the Hemi comes across no quieter than the diesel except at cold idle.
The standard 5.7-liter Hemi V8 develops 383 horsepower at 5600 rpm and, like any good truck engine, it makes more torque than horsepower, with 400 pound-feet at 4000 rpm. The new 6.4-liter Hemi, which shares nothing with Chrysler's SRT division's 6.4, rates 410 hp and 429 lb-ft of torque. Besides making more peak power and torque, it makes the same power as the 5.7 1000 rpm earlier, it has cylinder deactivation to run half-cylinders under light load, it's recommended fuel is less expensive than the 5.7's, and it typically has notably higher payload and tow ratings. On a new 7000-pound 4WD 2500 on a route half winding mountain roads and half level cruising we averaged almost 13 mpg.
The 6-speed automatic transmission shifts as it should, and if your primary truck need is carrying things or ultra-cold-weather plowing the Hemis are often better choices than the diesel. Yes, they will use more fuel, but they weigh less and the $6500-10,000 saved can buy lots of gas.
The Cummins turbodiesel is a proven option. Every version has big cooling (two radiators, two ATF coolers on autos, thick intercooler) to allow high tow ratings. Torque is 660 lb-ft at 1500 rpm on the manual, the standard automatic is 370 hp and 800 lb-ft, and the MaxTow high output engine is 385 hp and 850 lb-ft. If your occasional trailer is not more than 20,000 pounds or so, it might be wiser to choose the 370/800 engine and 4.10:1 axle ratio which rates about the same tow rating as the 385/850 with 3.42:1 but costs thousands less.
Our limited road drive in a lightly-loaded 2500 4WD showed close to 20 mpg, but as always your driving style and load will have far greater effect on your economy. The DEF fills next to fuel, and even factoring DEF costs, per-mile fluid costs should improve by double-digit percentages.
Diesel exhaust brakes are now multi-stage. You can choose maximum retarding whenever your foot's off the accelerator or an auto mode that aims to maintain the speed set, such as holding downhill speed to 60 mph rather than slowing until you disable it. The service brakes were strong enough to stop a 30,000-pound trailer from 45 mph on level ground without smoking when we stressed them by disabling the trailer brakes.
The Cummins inline six-cylinder is a medium-duty truck engine, with exceptional robustness, longevity and low-rpm grunt. Torque is what gets a load in motion, and with the Cummins making nearly as much torque when you let the clutch out as the 5.7 does at 4000 rpm, it is the obvious choice for heavy towing. Many RVers report better fuel mileage towing with their Cummins than a Hemi gets in an empty truck.
The integrated trailer brake controller is available on most models and hard to beat. Besides adjustable gain you can choose from light or heavy, electric or electric-over-hydraulic trailer brakes. We tried both heavy settings and each was capable of locking six or eight tires on a 14-plus-ton trailer with gain set at 7-7.5 of 10.
The frame now uses a Class V (2.5-inch) conventional receiver hitch. A massive mid-bed crossmember makes adding a fifth-wheel or gooseneck and tie-down points much easier, and a Mopar accessory installed at the dealer will be covered under the truck warranty. Rear trailer plugs are standard, an in-bed simple to add in.
The Power Wagon needs to be considered a separate model based not only on equipment but also performance. Locking differentials and a front antiroll bar disconnect give excellent low-speed off-highway performance. It's also quite good at speed across a gravel road or dry wash, though not a direct match for Ford's F-150 Raptor, which costs about the same with the 411-hp 6.2-liter engine, has a regular or Crew Cab, but offers less of the load and towing capacity of a Power Wagon.
With the MaxTow package the top ratings for the Ram are 30,000 trailer and 37,600 combined. Tow ratings for the Ram HD range from 10,540 pounds to 30,000 pounds; adding a larger cab, more lux or 4WD will tend to lower the tow rating. However, even the fanciest, largest Ram HD can be loaded with passengers and payload and still pull 10 tons.
Maximum payload varies by similar parameters although sometimes the 4WD version carries more. Load capacity runs from 1400 pounds (a CNG Crew Cab 2500 long bed) to more than 7300 pounds (2WD regular cab long bed 3500 dually).
Note that virtually all pickup truck tow ratings apply to a truck with a driver and only the mechanical options required; any cargo, people, or aftermarket equipment on board (winch, tool box, fifth-wheel hitch, etc.) will have to be subtracted from the max ratings. Double-check everything if you will be near the limits.
* The advertised price does not include sales tax, vehicle registration fees, other fees required by law, finance charges and any documentation charges. A negotiable administration fee, up to $115, may be added to the price of the vehicle.
* Images, prices, and options shown, including vehicle color, trim, options, pricing and other specifications are subject to availability, incentive offerings, current pricing and credit worthiness.